If you are an adventure junkie or you want to challenge your own fears,then no doubt bungee jumping must be in your bucket list. But before taking that plunge, doubts start pouring in, I'm sharing my experience at "jumping heights" (India's highest bungee point) in Rishikesh,hope these tips will help to make your adventure trip all the more happening and smooth.
Top 10 tips before heading for bungee jumping in Rishikesh
Book your slot in advance: It highly recommended that you book your slot well in advance. People come to Rishikesh from all over India for Adventure sports, so getting slot without booking is a bit difficult and time-consuming process. You can book from various online sites or you can directly book from Jumping Heights site.
Timing: If you are planning for a small trip, then timings are very important. Generally, activities start at 9.30 and end around 4 pm (varies in winters and summers). Though the free-fall lasts for maximum 4-5 seconds, the whole process will approximately take 1.5 to 2 hours that includes; briefing, reaching to jumping zone, jumping and trekking back to the office, so plan your trip accordingly. Please note that it remains closed during monsoon (from mid-July to mid-September).
Location: It is in Mohan chatti village, which is approximately 25 km away from Rishikesh. We traveled by our own vehicle, but these guys provide coach facility at reasonable prices.
Cost: Since the cost is higher (Rs. 3700) booking in advance might fetch you some good discounts. You can also get discount if you book for combo activities. Entry fee to the office are is Rs.100, where you get to sit in cafeteria area and can see the live videos of others doing the activity.
Physical fitness: Mental strength is the foremost thing that will be required for this activity, apart from it you they have list of illness that you should not be suffering with, specially BP or any orthopedic problem. After bungee you will have to trek back (20-25 mins) to the office, the trail is beautiful, you will surely enjoy it.
What if you back off: Many a times, people get scared and back off at the last moment. They give you one more chance, prepare you and encourage you for the jump. So, if you have decided to go for it, it's worth doing; remember it's not the jump, but the time before the jump that makes you anxious.
Locker facility: You can't carry anything inside your pocket at the time of activity. In case you are travelling solo or your group is going for other activities at the same time, you can opt for locker facility for your valuables. I found it to be a safe option.
What if it's impromptu: In case you are in Rishikesh and adventure bug bit you instantly (We belonged to this category?), then don't lose hope. You can visit the place, pay the entry fee, request them if you can get a slot, sometimes you get lucky.
Save your memories: Most adventure activity providers use go-pro camera,so you can buy the video footage to save your thrilling memory.
Other adventure sports in Jumping heights: If you do not get a slot for bungee jumping, there are other exciting activities that you might want to go for like flying fox, giant swing. Additionally, we went for Flying fox, it was an exhilarating experience, you get the best view of Shivalik ranges and river flowing down. I highly recommend it for couples.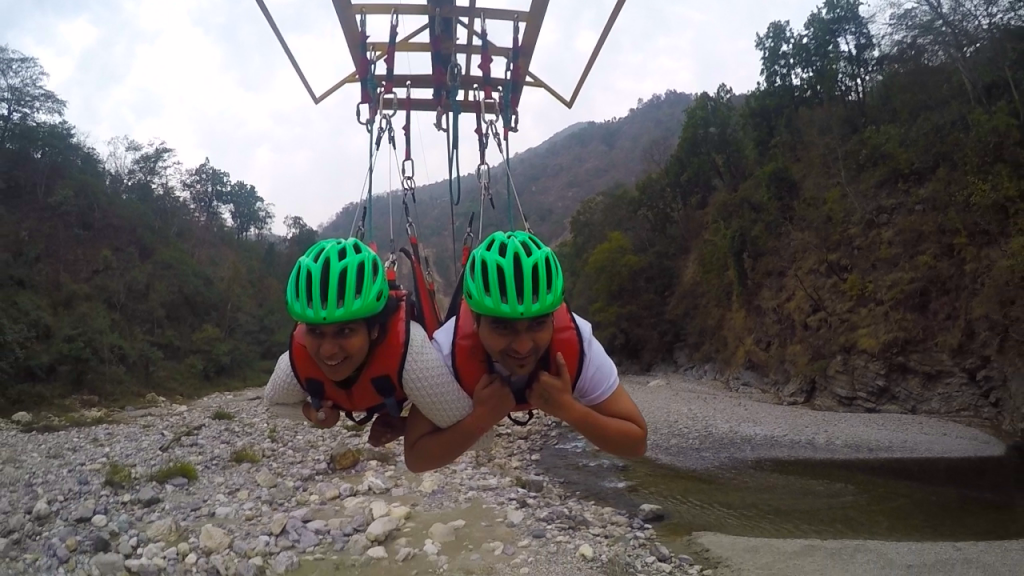 If you have already done bungee, share your fears and inhibitions and let your fellow travelers know how you overcome those. Happy adventure to you!!!