2 days trip/budget travel
Sorry, you won't get those themed cafes, mall road markets or fancy food here, BUT if you want to experience the sound wind, chirping of birds, the sky full of stars, raw innocent faces, and mesmerizing landscapes, this place is for you. This place is a true unexplored gem of Himachal.
It was an impromptu trip for us, disappointed with tourist-packed roads of Mcleodganj (made the mistake of visiting there on weekend), we wanted to go to a place that makes us forget the chaos of our crazy urban life. We boarded an early morning local bus from Mcleodganj and changed two buses to reach Aut station. After Mcleodganj's experience, we had no high hopes, but as our taxi started leaving Aut, the landscape transformed, and we were transported to a different world altogether.
Day 1: We reached Thachi in the evening. Visited the nearby Bithu Narayan temple, which is the most revered temple in the region. By the time we reached our homestay, it was already dark. We relished home-cooked food, and stared at the stark black sky full of stars nostalgically, till our heavy lashes gave up. 

DAY 2 :
The next morning we went for a small walk in the village, and routine has never looked so beautiful to me; kids in their school uniforms hopping over small hills to reach their school, the elder kids filled the football ground, the smoke coming out of those beautiful wooden houses, no one was in hurry and everything looked so in tune with nature. We stopped at a tiny tea shop, which was run by an adorable sweet couple, and to accompany our tea we had some biscuits and few meaningful conversations with this couple.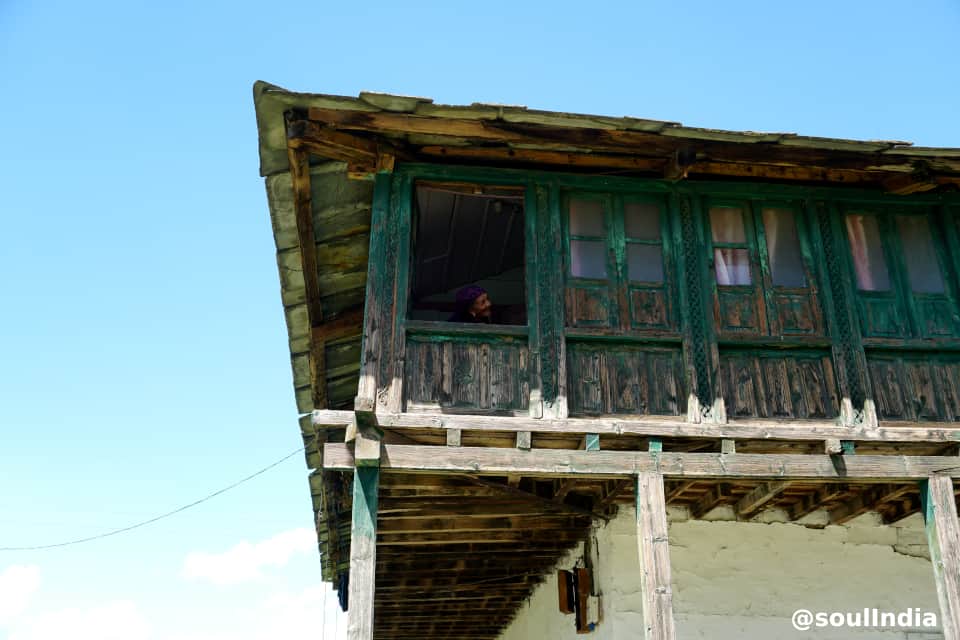 Another gem of this valley is the Hadimba peak trail, where the landscape changes several times from majestic pine trees to shaded barely fields and finally to fantasy-like apple orchards. At the end of this trail, we reached Hadimba temple surrounded by lush meadows, this was the kind of place where you just sit calmly and let your senses be blessed by the caressing sound of wind when it touches the temple chimes, the beautifully carved wooden temple architecture, the massively scattered Lahaul – Spiti Mountain, and the mighty Beas river.
Our homestay owner Mr. Rajesh invited us for a cultural ceremony. People gathered in an ancient temple to make silver and gold canopies for their revered deity. Sooner, I realized this wasn't a mere ritual when storytelling sessions and laughter illuminated the temple backyard. This was the most cherished part of the trip for me; to be amongst locals and listen to their raw stories. Watch the video below if you are a cultural enthusiast.
After the ceremony, Mr. Rajesh invited us for lunch at his home, overwhelmed by this gesture we promised to visit there again during snowfall.
Such travels make me realize that mountains are not all about fresh air and instagrammable landscapes but there is more to see, explore and learn. Keep Exploring the unexplored!B
Best time to Visit: Throughout the year. If you are a snow lover, visit from Mid-December to February. We visited in August, got to see apple laden orchards.
How to reach: Board the bus from Delhi to Aut (you can get plenty of Volvo buses from Kashmiri gate). Pre-book a taxi from Aut to Thachi Valley (Inform your bus driver, so he can get you down at the exact location in Aut). You can also go directly by Car.
Return journey:
Taxi from Thachi: It will drop you to Thalaut, where you can board your Delhi bus.
Local bus from Thachi – It goes till Aut, get down here and inform your Volvo driver to pick you up from Aut (tell your exact location)
Cost:  5200/- for 2 people stay and food (2 days)
Where to stay: We stayed in a beautiful Homestay. You can contact Mr. Mukesh 8587802134 if you want to book a room.
Other places to visit:
Depending upon the duration of your stay you can plan to visit these places too: Chanjwala Peak Grassland, Ropa Pond, Saponi Dhar Grassland, Kamehdhar Grassland, and Gharlsaw grassland