Puri, Orissa is, indeed, a place to be visited more than once.When I visited this place for the first time, I was overwhelmed by the magnanimity of lord Jagannath; the beauty of Chilka lake,the history of  Konark temple, and serenity of Golden beach. In one go, this was more than I could absorb.The soul of this place is so humble and beautiful, that you will be drenched in it for weeks, after returning from this place. Fortunately, I got a second chance to visit Puri. This time, I wasn't a first timer and I was ready to imbibe and absorb more of this city.
This time, we reached in the evening. I wanted to get out of my hotel room as soon we checked in, because I couldn't  wait to sit down by the this sea and stare at it for hours.We planned to have our dinner outside hotel room, so we explored the Puri market. When in Puri, never ever eat in your hotel room, because there are plethora of local delicacies waiting to delight your palate like, malpua, chenna poda (Sweet delicacies), maccha besara (fish),to name a few.
Next day, we went to jagannath temple, and again I was overwhelmed after lord jagannath's darshan. We ate our lunch in the temple premise. The food/prasad thali, full of local delicacies and lord jagannath's blessings, is simply divine.This time we planned not to visit Konark and Chilika ,as we had already been there few years back, so after darshan we hired an auto on hour basis. We visited Sudarshan art gallery, and trust me you won't get disappointed. Diligently moving hands of sculptors on stone and creating life like deities, is amazing to watch. You can see many beautiful awe striking sculptures inside the gallery.There is very beautiful Japanese temple inside the museum.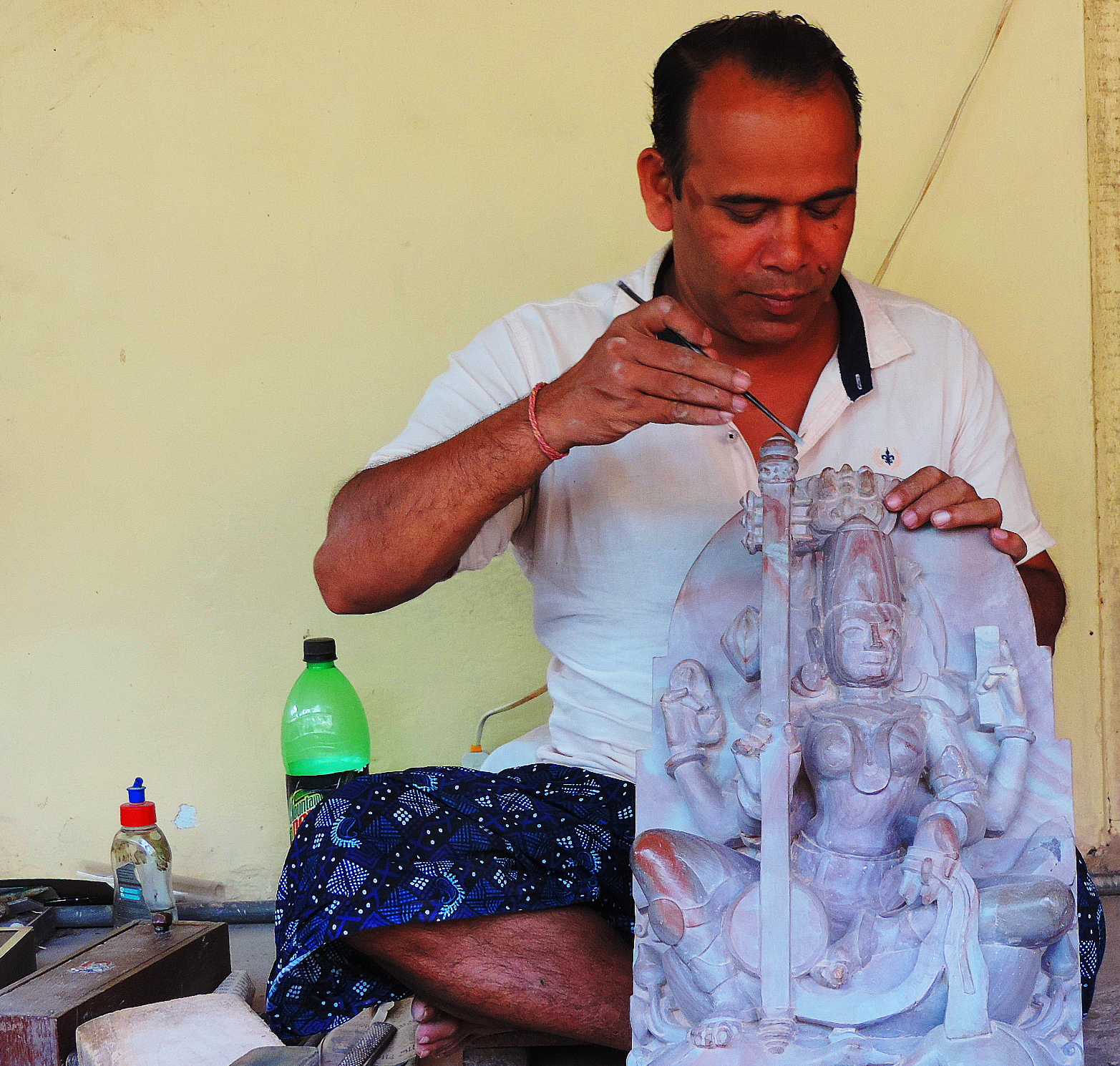 After this we got down from our rickshaw and roamed around the streets,I guess that's the best way to feel a city. Small- big temples with intriguing architecture ; street vendors with local delicacies; engrossed artisans carving the heavy stones, and artists painting the city walls, with mythological stories and folklore slowly unraveled the true soul of Orissa.
Next day, we had our flight in the evening so we had time till afternoon,we visited Raghurajpur which is 14 km away from puri. It's a paradise for art lovers, and a must visit place.This village is a pool of talent, every house has at least one artist. Either they are indulged in art or intriguing performing art Gotipua dance ,where boys dress up as girls and perform beautiful gotipua dance. These artists were very humble and embracing, many of them were, prestigious national award winners.If you visit there, make sure to buy something to encourage the artists,it will be our small bit to keep alive these rare arts in India.
And that's how, I got the glimpse of true soul of Orissa!!
To know more about Raghurajpur and Gotipua dancers check soul India video https://www.youtube.com/watch?v=X3wRcV4JHQA&t=78s